This store requires javascript to be enabled for some features to work correctly.
Donna Kato + GUEST ARTISTS
TUTORIALS
Donna Kato
Donna Kato is a well-known polymer clay artist and teacher who currently resides in the beautiful mountains of Colorado, USA. Throughout her career, Donna Kato has shared her creative knowledge in numerous classes world-wide, and has written several books, including "The Art of Polymer Clay" circa 1992. Today, Kato continues to hold space for annual clay events in Atlantic City, Miami, and Europe, as well as instructional videos and pdfs.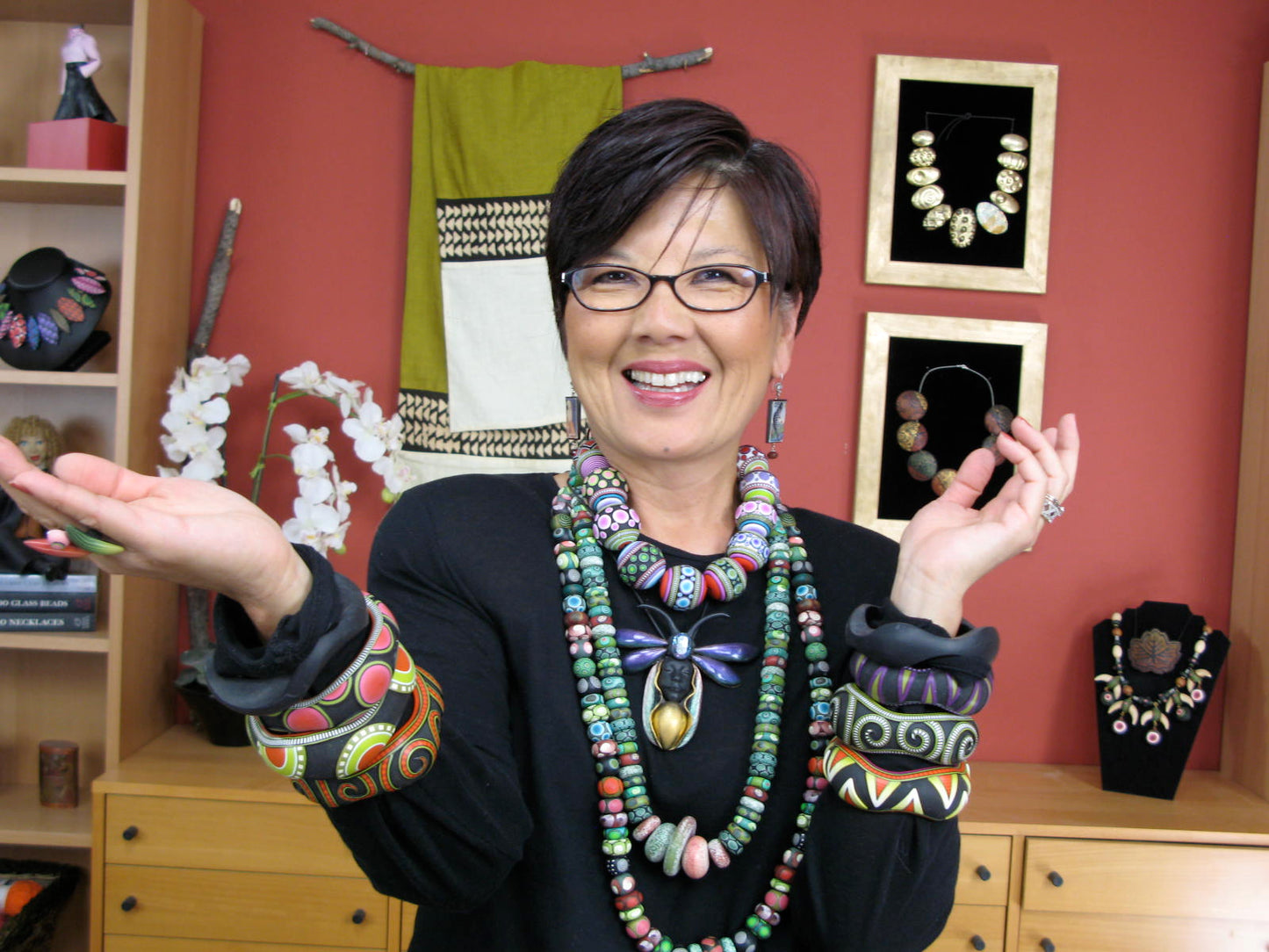 Jana Roberts Benzon
pre-conditioning tough bars
got a tough bar? Say no more-
The Jana Roberts Benzon method is a quick and easy way to prep extra-firm bars of clay for the pasta machine.

donna kato
conditioning 101
DONNA KATO
the (judith) skinner blend
THE (JUDITH) SKINNER BLEND
LEARN HOW TO MAKE THE GRADIENT COLOR BLEND THAT CHANGED THE COURSE OF POLYMER CLAY AS AN ART MEDIUM

DONNA KATO
THe balanced jellyroll cane
The jellyroll cane
Spirals are one of the oldest symbols in the world, and can be found as a powerful symbol in just about every ancient civilization. Bring any piece to life with a our modern "spiral", the balanced jellyroll!

DONNA KATO
IMAGE TRANSFERS
IMAGE TRANSFERS
Learn how to transfer printed images onto polymer clay. Graphic Designers, you've been warned: a new obsession is afot!

Lynne. M. Sole
patinated copper leaf imprint
patinated copper leaf imprint by L.M. Sole
impress your clay with nature
Celebrate the beauty of nature with polymer leaf imprints by guest artist Lynne M. Sole.

DONNA KATO
PROJECT PLECTRUM
STRUM IN STYLE WITH KATO GUITAR PICKS!
Kato is known to be strong and durable, so what better way to celebrate its properties than to make your very own guitar pick?