This store requires javascript to be enabled for some features to work correctly.
Kato Polyclay
Characteristics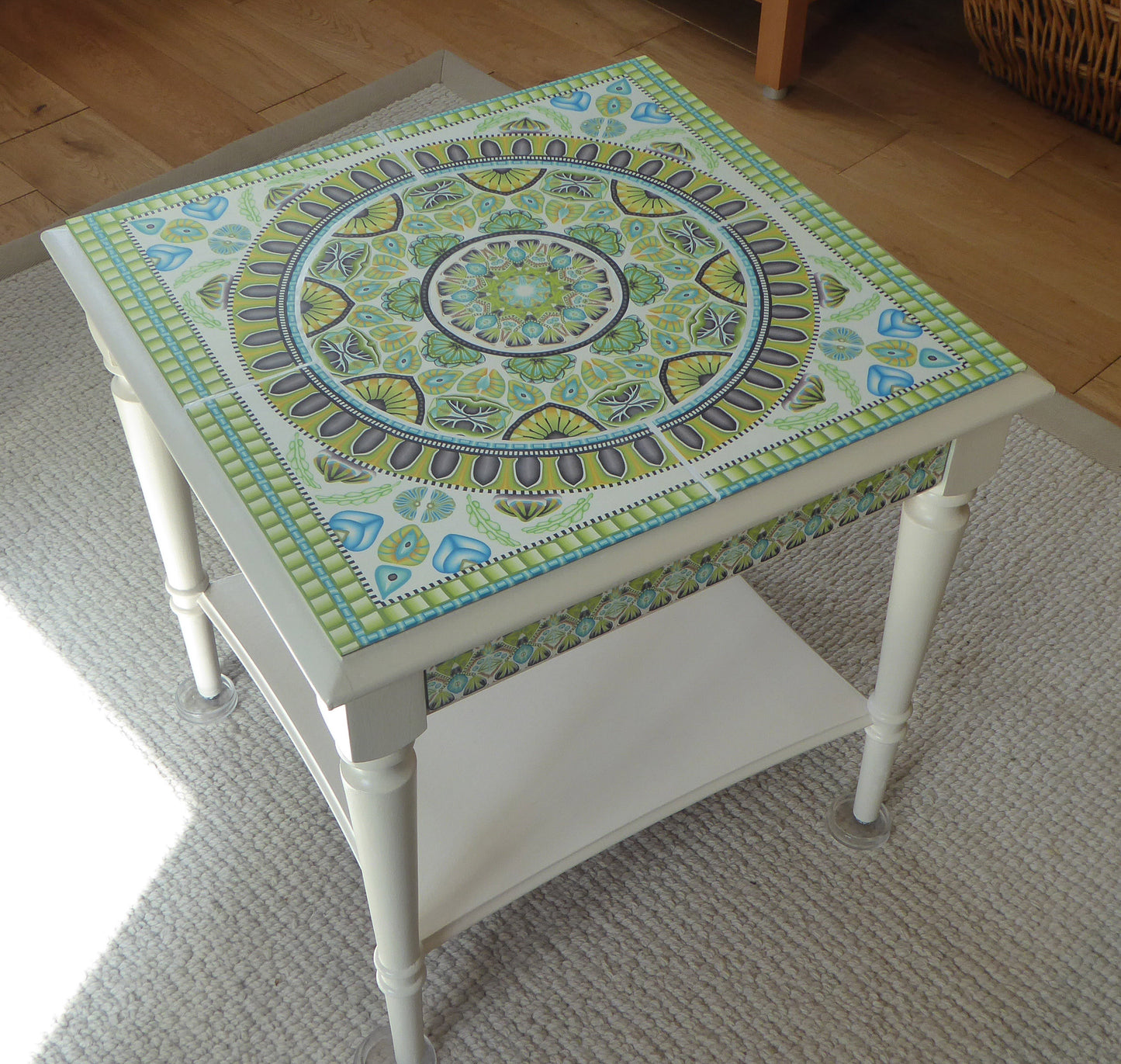 Table by Bridget Derc (United Kingdom)
STRENGTH
Strength and durability are very important properties in any polymer clay product. The amount of time and effort put into your project makes it very valuable; and when a piece breaks it can be very disappointing. Stronger than other clays, objects made with Kato Polyclay become permanent works of art that will resist breaking and wear over time. The recommended curing temperature for Kato Polyclay is between 275F (135C) and 300F (150C) for 10-30 minutes. 
___________________________________
TIP: Maximize the strength of Kato by curing at 300f *separate oven thermometer is reccomended to ensure accuracy.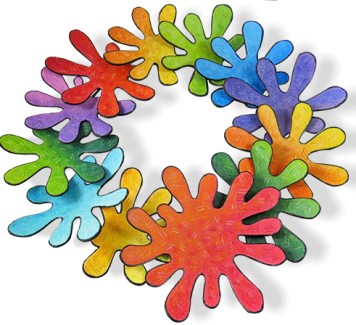 Necklace by Donna Kato (USA)
COLOR SPECTRUM
There are 21 colors available in the Kato Polyclay line. 8 spectral colors, 5 neutral colors (including translucent), 4 metallic colors, 4 concentrated colors. All colors are intermixable, enabling the artist to create virtually any color imaginable. This gives artists the freedom of producing their own signature colors.
___________________________________
TIP: Adding White to any spectral color will turn it into a Pastel!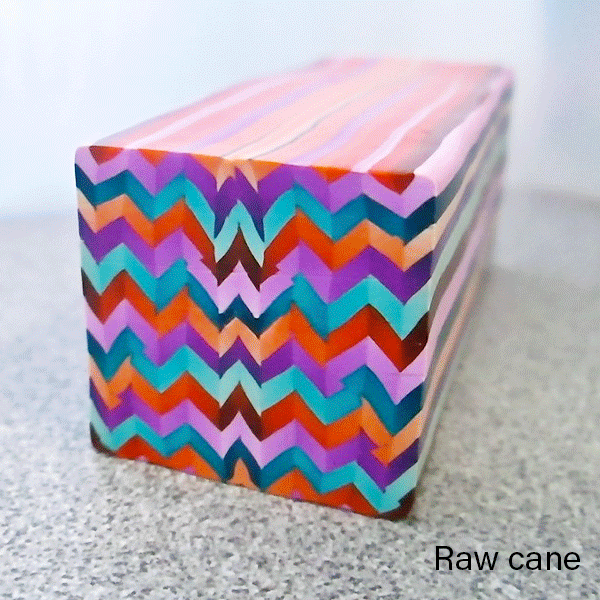 Cane and Pendant by Deb Hart (USA)
COLOR STABILITY
With other polymer clays, there is often a significant difference between the color of the packaged clay and the clay after it has been cured. Kato Polyclay has a minimal color shift when cured. 
___________________________________
TIP: When curing, create a "dome" or "tent" with aluminum foil over your work to help regulate temperatures and stabilize colors.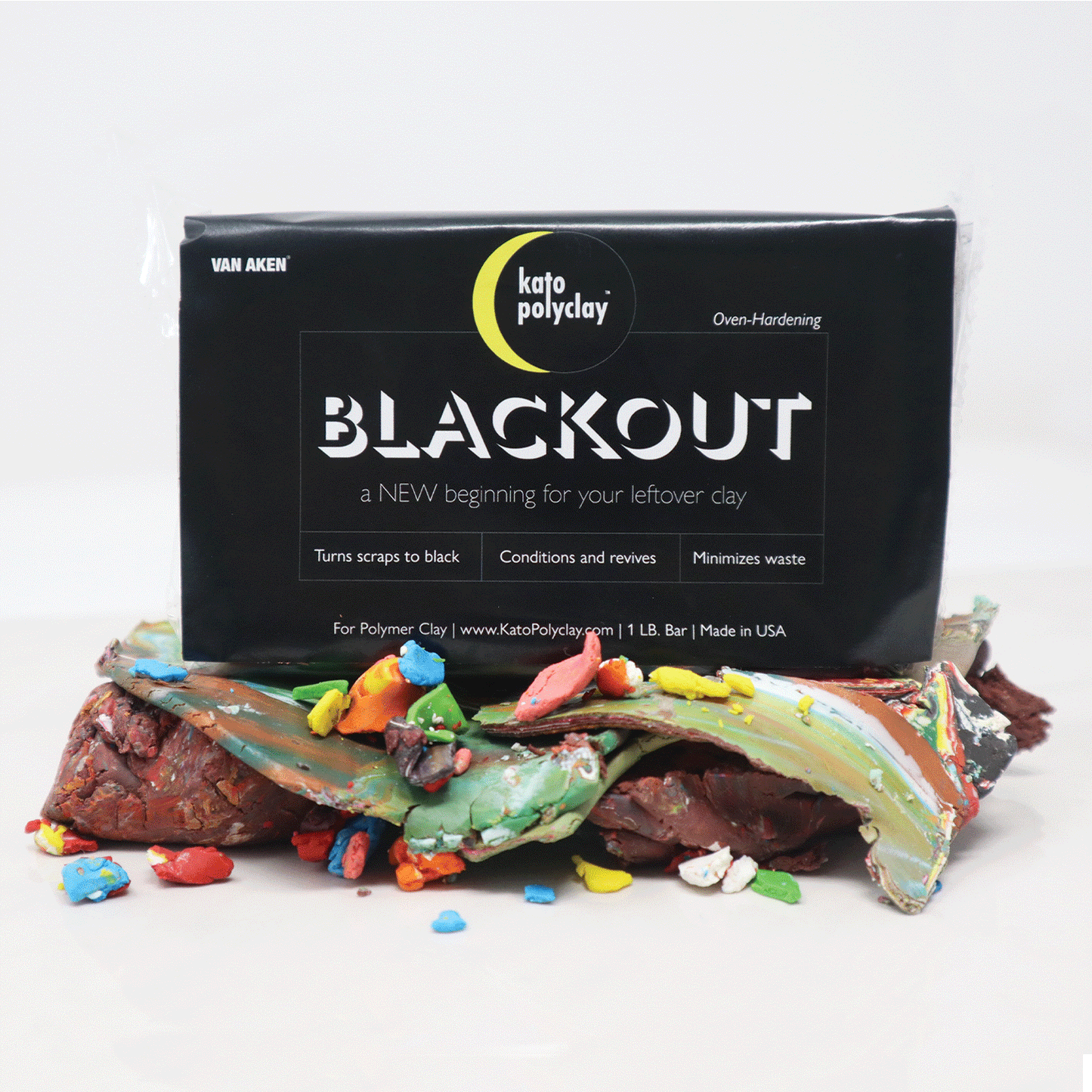 KATO BLACKOUT
Kato Blackout recycles leftover clay and is the first and only developed solution on the market to help minimize polymer clay waste in terms of uncured scraps, crumbles, and colors artists mixed and,"just didn't vibe with." This innovative product not only tints leftover clay to black (one of the most popular colors), it also acts as a conditioner, giving back to the artists with fresh, usable clay.
___________________________________
TIP: Add our original Kato Black to the mix if you like your clay on the firmer side.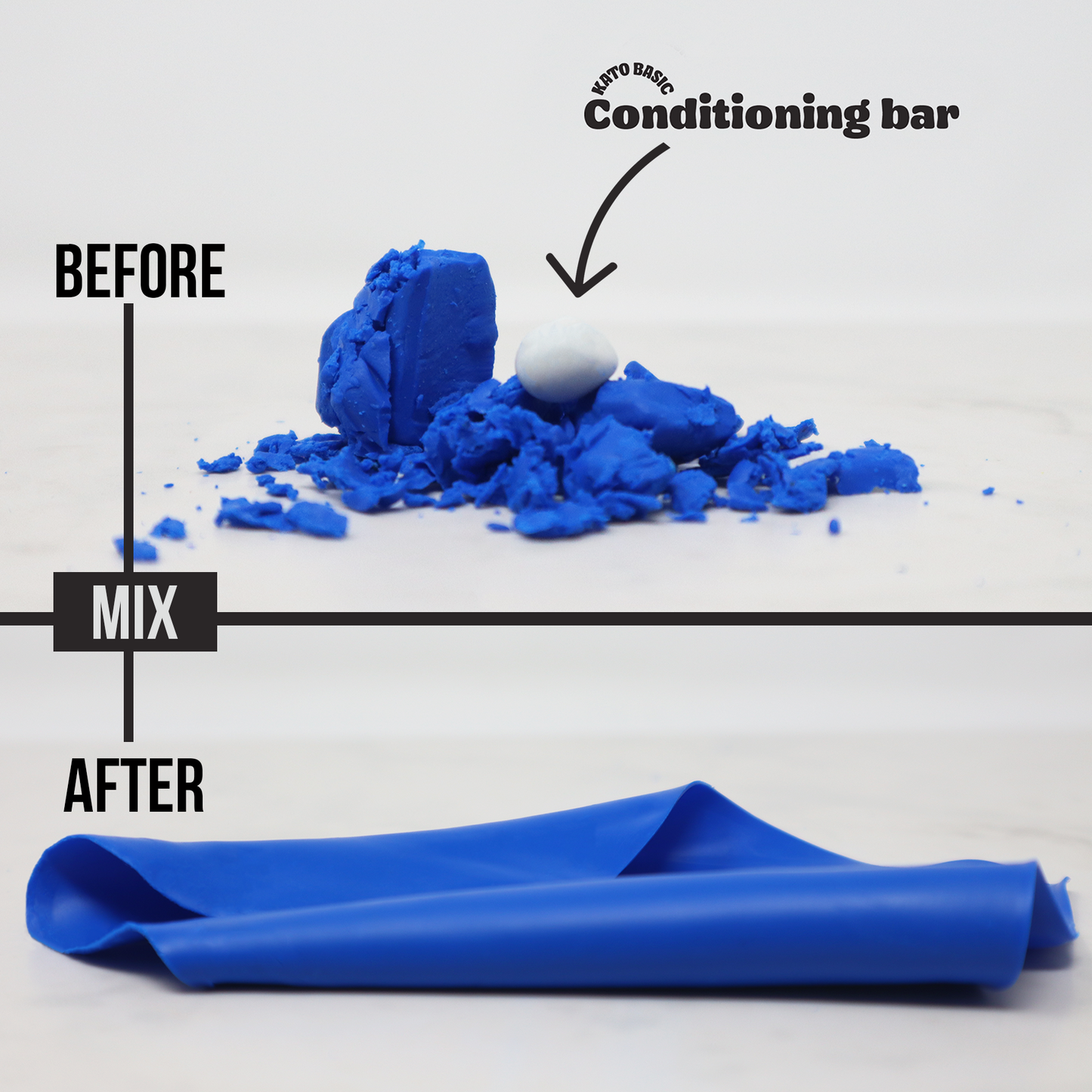 KATO BASIC CONDITIONING BAR
Our Kato Basic Conditioning Bar wants your crumbly, old clay- and it will make them seem as if those bars are fresh from the factory. Kato Basic Conditioning bar is a polymer clay softener in a bar form. It is colorless and allows the artist to make their polymer clay as soft as they want. No spills, less mess, and more control. When clay is conditioned with our Kato Basic, it enhances the clays ability to remain nice and pliable through the test of time.
Keepsake by a.ko + mumu (usa)
KATO SOFT
Our Kato Soft is an ultra-soft polymer clay that doesn't require special tools or conditioning. The possibilities with Kato Soft are endless: Use it to tone down bumps created by armatures, as a filler for larger pieces, or "caulking" for polymer clay cracks. Stamp it, sand it, sculpt it, paint it, squish it into a mold, create a keepsake, or simply shape and bake!
___________________________
TIP: For even coats, wash and dry your cured piece before painting.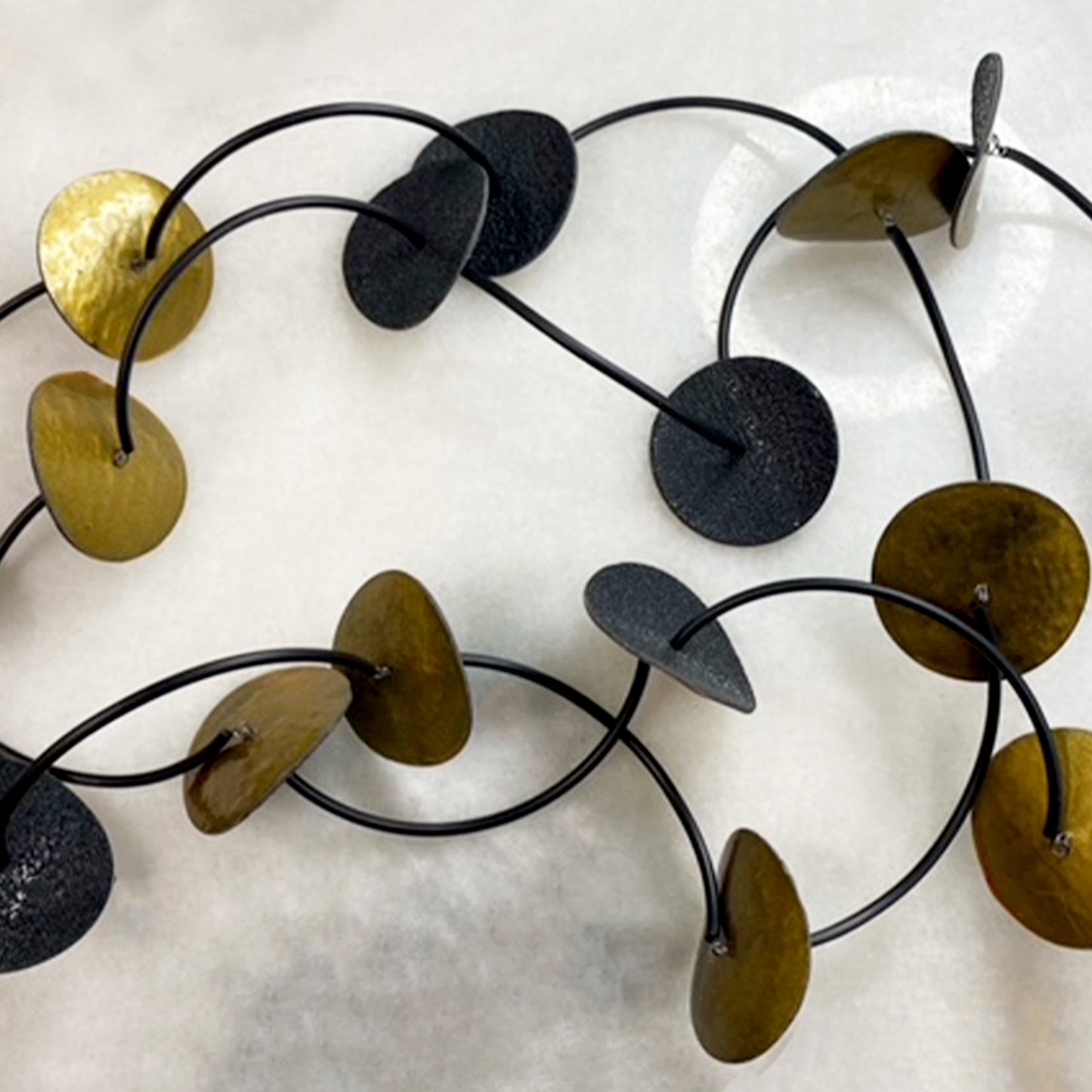 black and liquid gold chips by donna kato (usa)
KATO LIQUID GOLD
Kato Liquid Gold is an oven-curing, mica-infused liquid polymer goodness in a bottle. With this specialty liquid polymer, you can give any project the glow up it deserves. *See Color Liquid Polyclay for more info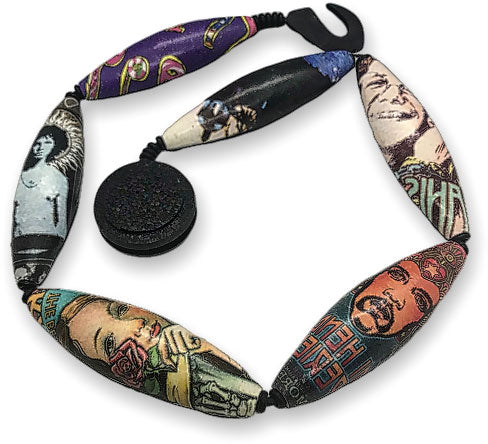 Transfer Necklace by Donna Kato (USA)
KATO CLEAR MEDIUM
Liquid Polyclay (Clear Medium) is a revolutionary product which allows users to create perfect photo transfers and finishes for polymer clay pieces. It can also be used as an adhesive, grout, or glaze.

Liquid Polyclays should be cured at 300F (150C) for 20 minutes for a matte finish. To create a glossier finish, cure for an additional 10 minutes at 350F (177C), or wave a heat gun over project until desired glossiness is achieved. Do not inhale fumes and never cure above 350F (177C) or allow Liquid Polyclay to come in contact with an open flame.
* A separate oven thermometer is helpful for precission as many oven temperatures tend to flucuate or are not as accurately calibrated.
___________________________________
TIP: Apply in thin layers to minimize bubbles and maximize clarity!
Window clings by Donna Kato (USA)
COLOR LIQUID POLYCLAY
COLOR Liquid Polyclay is a heat-set medium with exceptional strength and flexibility. It is available in 6 vibrant transparent colors and 2 neutral colors: Red, Orange, Yellow, Green, Blue, and Violet as well as opaque White and Black. These colors may be intermixed to create new colors; transparent colors can be mixed with opaque white to make opaque colors, and mica powders can be added to create a metallic or pearlescent effect! 
___________________________________
TIP: When mixing colors, use minimal agitation. Excessive stirring will create air bubbles.
BONUS TIP: When making window clings, or painterly images, cure in between colors to minimize color bleeding.
_____________________________________
DID YOU KNOW? COLOR Liquid Polyclay has excellent leveling properties and flows smoothly allowing it to be cured in sheets or poured into metal or glass molds. After curing, it may be cut with scissors into desired shapes. A few examples of its uses include: stain glass window clings, watercolor effects, faux stones, faux cloisonné, faux dichroic glass, coasters, mosaics, marbleizing, colorizing transfers and so much more.
Pendant by Donna Kato (USA)
poly paste
Poly Paste is a heavy-bodied adhesive that will not run when applied to vertical surfaces. Poly Paste can be used to attach cured and uncured pieces in any combination. Unlike other adhesives, Poly Paste fuses the two pieces together and creates a permanent bond.
Poly Paste will never dry out even if exposed to air. When cured at elevated temperatures, it will also show no signs of degradation. Other ways to use Poly Paste include texturing, grouting, embossing, repairing cracks, and gilding with mica powders.
In order to take effect, Poly Paste must be cured. It may be cured between 265F (135C) and 325F (165C) for 10-30 minutes, depending on the polymer clay used and the recommended curing temperature.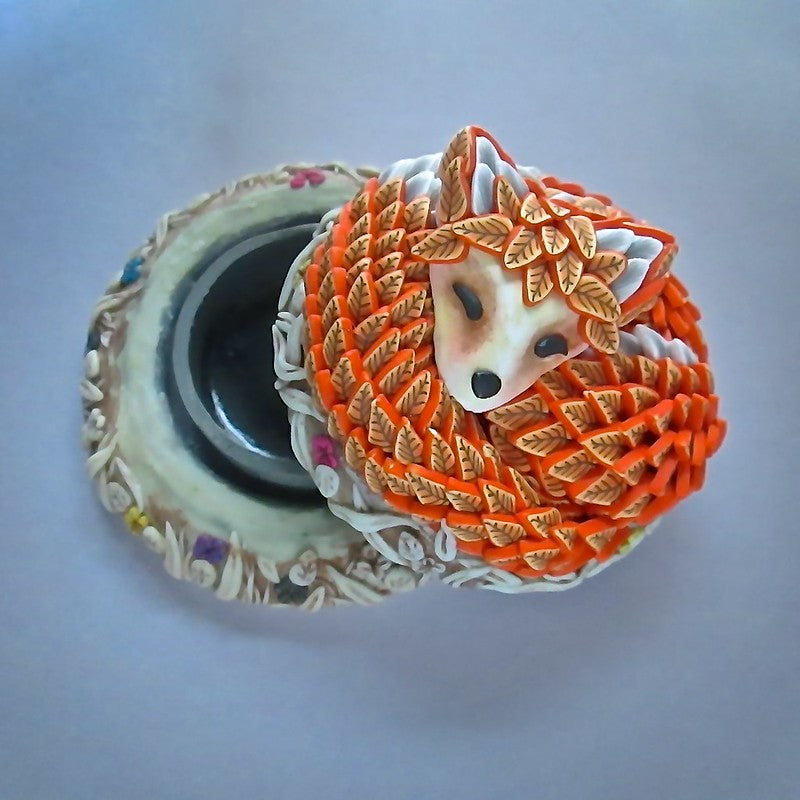 trinket box by deb hart (usa)
repel gel
Repel Gel is a non-toxic, water-soluble polymer clay medium that prevents polymer clay from adhering to itself during the curing process. To apply Repel Gel to a project, use a paintbrush to spread a thin coat to the surface where adhesion is not desired. Remember to apply to all surfaces and edges where you would like to prevent the clay from adhering. Cure with piece at recommended time and temperature. After the cured piece has cooled, separate the clay where the Repel Gel was applied and rinse off any residue with cold water. Repel Gel can be used to assist in creating lids, braids, loops, pouches, fringe, photo frames, and luggage tags.